Right in the Childhood
Today my best friend Judy came over for a visit because my mother needed her mother to help her rub some ointment on her back. Only her and her little 4 year old sister Janie came along though, her brother wanted to stay home to play games on the computer.
So while the mothers were busy with their coin rubbing, Judy and I washed the dishes. After we finished, we went upstairs with Janie ( because an accident almost occurred last time when Janie was left alone upstairs ). Janie was playing with her black retarded looking animal balloon and that reminded us of our own animal balloons that we've made when we were little. That conversation then lead us to origami... and that's when I took out my origami box so we can have some origami bonding time.
My origami box contained both origami paper and star folding paper. So then we decided to make paper stars. ★彡 As we talked while folding them paper stars, the tamagotchi discussion was brought up. So then I took out my tamagotchi bag. Since it's been a little over two years since I've touched one, my reaction when I opened the bag was, "Oh my goodness! It's so adorable!" My friend just laughed and said, "Oh, I remember when we went to the bathroom and made babies." Oh god, I think I just died after listening to her say that.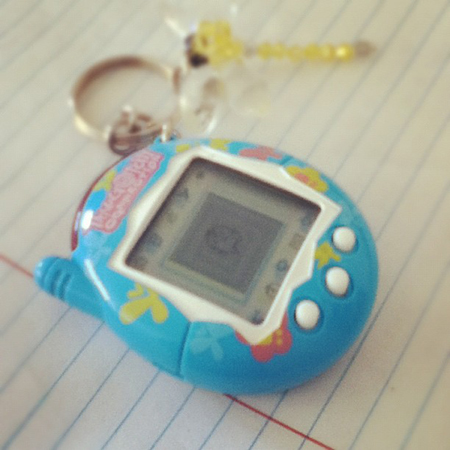 Well the thing is, back then in our elementary school we were the first ones to bring our tamagotchi's to school. No one knew what they were but after a while the tamagotchi trend started and almost everyone in school had one. The principal became concerned and decided to ban tamagotchi from the school grounds. So then Judy and I started to hide them in our pockets. We would go into the bathroom stalls to avoid being tattle-tailed on ( kids back then had horrible attitudes, it's not like we don't trust them :D ) and connect our tamagotchi through the stalls. There was a point where our tamagotchi became partners and made babies. There you have it, making babies in the bathroom was possible after all.
I found some batteries in the bag so I decided to revive my tamagotchi v3. It's currently sleeping while having the sick icon and two little pieces of poop next to it. Hopefully I can cure it when it wakes up.
Right when we changed the subject to music, her mother decides to leave. ( This always happens, it's like God doesn't want her to listen to my music :'c ) I gave her a cookie and we parted.
I WANT HER TO COME BACK.